Express windows
in a 90
The Audi 90 comes stock with the "express down" feature already installed on the drivers window. So far my attempts to think of a way to add this feature to the other side or all three other windows have met with extreme difficulties due to the double switch setup (drivers door and local door locations) and the immense amount of wire that would be required.
Some may desire to, as I did, reverse the express direction - that is, make it so the drivers window is one touch up rather than down. To do this all that is required is to fool the module that controls this function by swapping a few wires. What has to changed are the main switch output wires to the module and window motor, the two wires at the window motor, and the two switched ground wires at the switch. Now the module will kick in when "down" is pressed instead of "up", but since the wires to the motor are reversed as well, the window will still do what you expect.
Basing this on my diagram and explanations in the other file on this subject, the terminals to swap are the obvious pair at the connector in the pair of wires between switch and the window motor, the pair connected to pins 1 and 2 of the window switch, and the pair connected to pins 3 and 5.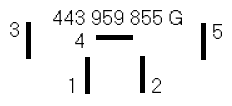 This has been tested and works perfectly.