Wheels and Brakes
on a 90 Quattro
My 90 Quattro came with the stock basketweave BBS 14" x 6" wheels and some almost new generic 195-60's. It almost goes without saying, by comparison with my coupe with 50's on 15's, the 90 feels a bit squeamish on hard corners. I have a set of H & R springs for it, and the OEM strut tower bar, so what still needs to be done is to increase the wheel diameter and put on some nice 205-50's.

I picked up a set of the 15" x 7" Speedline wheels used on the later Coupe Quattro (among others), in pretty ratty condition. These wheels have a ring of pretend bolts, making them "look" like a two piece rim. The "bolts" not only don't hold anything together, they are made of plastic. So to make the wheels attractive again, by media blasting and powder coating, requires their removal.

Stripping the old finish removed the tops of the "bolts" completely, leaving the plastic stubs embedded in their holes. 36 of them in each wheel. Removing these was not as tough as I expected, a 1/4" drill got them out pretty quickly.



The next step is to fill the holes with "Hi-Temp Lab-Metal," a filler that can survive the temperatures involved in powder coating. Then I will try to sand them smooth, and get them painted silver to match the center caps.
The wheels have now been powder coated silver, and I have painted the ring where the pretend bolts used to be in Lazer Purple to break up the ugly (to me) look these wheels usually present to the veiwer. With a set of used Toyo 205/50-15 tires mounted, I think they really reduce the busy look the car had with the BBS wheels. I also enjoy the sharper turn in, harder cornering and slightly increased road noise of the wider, sportier tires.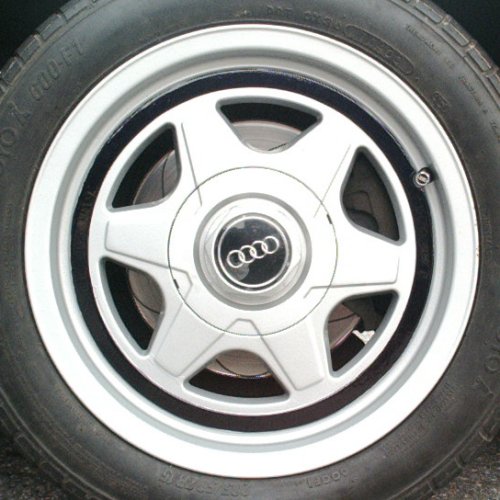 The brakes on this car aren't too bad, actually. But using 15" rims allows more... The stock brakes are Girling G54's with 254 mm rotors. With 15" wheels the two piston G60 caliper and 276 mm rotor can be used. I also have some old (1981) 5000 turbo calipers, that appear to be able to bolt up to my 90Q, using the larger rotor with the stock pads.

Stock G54, approx 8 pounds
G60, approx 13 pounds
Antique G54, approx 8.5 pounds.
I like the aluminum bodied G54's, because they weigh approximately the same as the stock caliper. The swept area would be increased due to the pads being further from the hub, so they should reduce fade problems slightly and have a little more leverage.
When I have some of the larger rotors to play with, I will test fit these antique calipers to see how they look, if they will work I might just clean them up and use them.