European Headlights
in the 90 Quattro
problem & solution - process - parts list - city lights - graphics
the lights - the schematic - the harness - installation - results
The schematic for my wiring harness: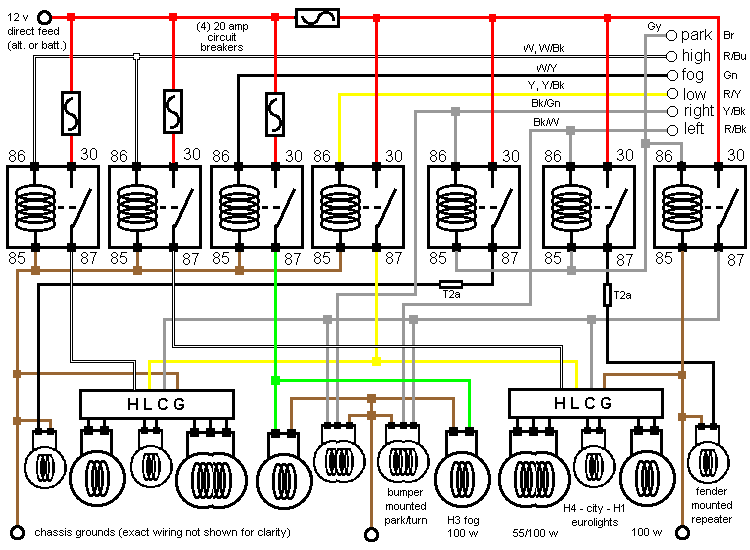 Wiring notes:
The grounds are arranged as follows:
Each headlamp assembly is grounded by a 15" 10 gauge wire to a nearby bolt.
The relays (and bumper lights) are grounded to a bolt near the control unit.
The repeater light harness has its own ground ring terminal.
The fog lights share a ground at a bolt in the middle of the center support
The main power feed is an 8 gauge wire attached to the alternator output.
I used 20 A circuit breakers (from Audi power windows). 25 and 30 A are also available.
The relays are all Bosch 40 A units scavenged from parts cars.
All splices are soldered and sealed with shrink tubing.
Wherever possible, I used the appropriate color coded wire... from about ten Audis...
The six input signals are taken from the remains of the stock wiring, via a six pin connector. The colors shown above resulted from the use of random available pieces, and they correspond to the car's wiring thusly:
| | | |
| --- | --- | --- |
| Diagram: | Car: | Function: |
| Brown | Grey/Red | Parking lights |
| Red/Blue | White | High beams |
| Green | White/Yellow | Fogs |
| Red/Yellow | Yellow | Low beams |
| Yellow/Black | Black/Green | Right signal |
| Red/Black | Black/White | Left signal |