Front Speakers
in the Audi Coupe
HUMAN Speakers Model A-61
Excuse department: It is very difficult to get rectangular speakers to sit square in a door that seems to have no parallel sides... I think after my door swap I mounted them in alignment with the upper trim, though.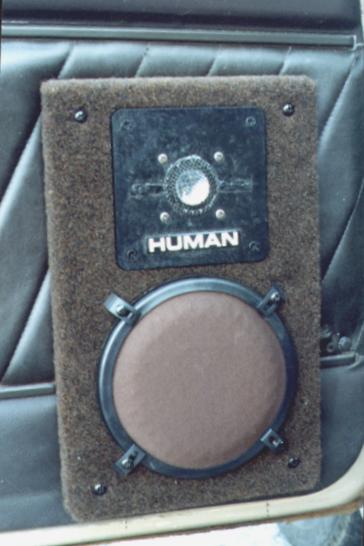 Mounting these speakers required no cutting of metal, since only the woofer magnets protrude through the existing hole in the door. They don't interfere with power windows, but were sized and positioned to cover the hole from a manual window handle.
The stock door pockets, however, had to be jettisoned since they mount from the rear and would make installing the speaker mounting screws difficult. I may convert to the later style full length pockets, which except for one screw install from the outside and could be mounted after the speaker. Or I could use the original bins but create a pair of blind holes in them to get to the two bottom screws.