| | | |
| --- | --- | --- |
| | Exhaust | |
V1 small - Trans boss cut - V1 Large - V2 CAD - V2 Large - V2 axle bends - Tail pipe
First here is the problem: the muffler outlet is low and inside of the cutout in the bumper. How to get from here to there?

This is my old outlet pipe. It seems two of these could be welded together to do the job, if necessary.
A test fit of the first two pieces. They are halves of a ninety degree mandrel bend, that move the position across and up. Some would be happy with this as their tail pipe, I'm sure.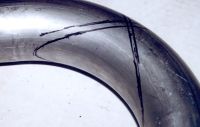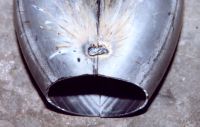 Here is another ninety degree bend marked to be cut to make my twin tip, then it has been cut and is set up with one tack weld.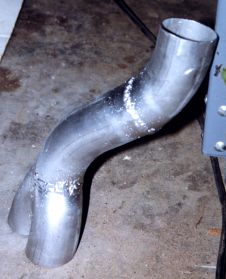 Here is the tip being set up to weld to the tail pipe section, and the finished product. The tips are cut at a slight angle (for coolness). It is painted to reduce corrosion at the welds.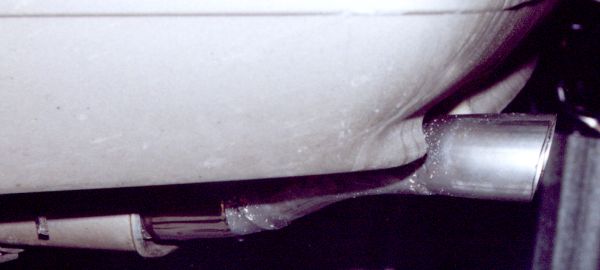 Above: The tail pipe and tips as assembled, seem from the side.
Below: The finished product shown from the rear.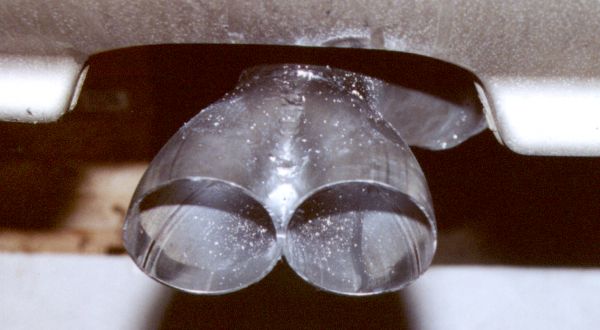 V1 small - Trans boss cut - V1 Large - V2 CAD - V2 Large - V2 axle bends - Tail pipe